At Legends Bar, a renowned revelers' magnet in Kampala, an event organized by Uganda's oldest brewer is underway. The scorching mid-January sun has waived its bitterness today, perhaps signaling a period of relief.
Two tents; one well-decorated in splendor and color to suit the guestlist — among them Dr. Diana Atwine, the Health Ministry Permanent Secretary — while the other is a temporary Covid-19 vaccination point.
After two painful years, another "significant" sector of the economy (but non-essential, according to the country's president Yoweri Museveni) is re-opening.  The night economy is one of the key contributors to the national resource envelop, going by datasets at the Private Sector Foundation Uganda (PSFU).
"When Covid-19 hit the country, our GDP fell from 6.3% to about 3% … from a statistical point of view, the night economy controls a very significant part of this eco-system," said Mr. Stephen Asiimwe, the Executive Director at PSFU.
-A testament of 'collective good'-
At the event, Uganda Breweries Limited (UBL) is offering several items to bar owners, to support them recover from the ruins of Covid-19. On top of this, the company launched yet another vaccination drive, which according to general manager Eunice Waweru targets bar stuff and revelers.
But Legends Bar is neighbored by  China Uganda Friendship Hospital Naguru (Naguru Hospital), one of the top public medical facilities in the capital. A Covid-19 vaccination campaign was thus being launched and presided over by a top Health Ministry official at a bar, not the public hospital.
This is a true testimony of how Uganda's Covid-19 vaccination has been conducted. It was hugely private sector-mobilized and the Health Ministry notes that many countries have reached out to benchmark.
"The process (vaccine uptake) would have been slow, but that's the beauty about partnerships. Your support towards strengthening the national health response made us achieve what we have achieved," Dr. Atwine told bar owners at the event.
-A daunting task –
The East African country has come a long way to reach here; two full lockdowns, a deadly delta variant wave, controversial Covid-19 relief fund, the vaccination campaign among others.  For now, children are back at school, the transport sector is fully reopened and the unpopular curfew restrictions are now history.
At the onset of the pandemic, the World Health Organization indicated that the most trusted way to beat the pandemic and associated restrictions was through vaccination.
Uganda launched its vaccination campaign close to a year a go, on March 10 2021 amidst a bevy of controversy, ranging from procurement to supply and vaccine safety. This on top of misinformation formed a basis for low uptake.
Seven month later, by November 2021 Uganda had rolled out only 2.7 million vaccine doses. There were also fears that the hard-earned vaccines would expire in government stores. In his address, President Museveni threatened to fire local government officials if vaccines expired in their custody as a measure to scale up uptake.
Much as the initial worries of supply vis-a-visa demand played a role in public neglect, a good number of Ugandans were not willing to show up for jabs, according to Angella Kamalinda, a counseling psychologist at All in The Mind Counseling in Kampala.
"One of the reasons why people were hesitant to take vaccines is pandemic fatigue. People have been in this crisis for over two years now. There are new variants coming and people are not sure vaccination will help them. Anxiety and denial can also be the reason. Denial is a reflex and it happens when a person is trying to control anxiety. People want to feed their minds that they won't catch the virus, hence refusing vaccination," says Angella Kamalinda, a psychologist.
-The bite-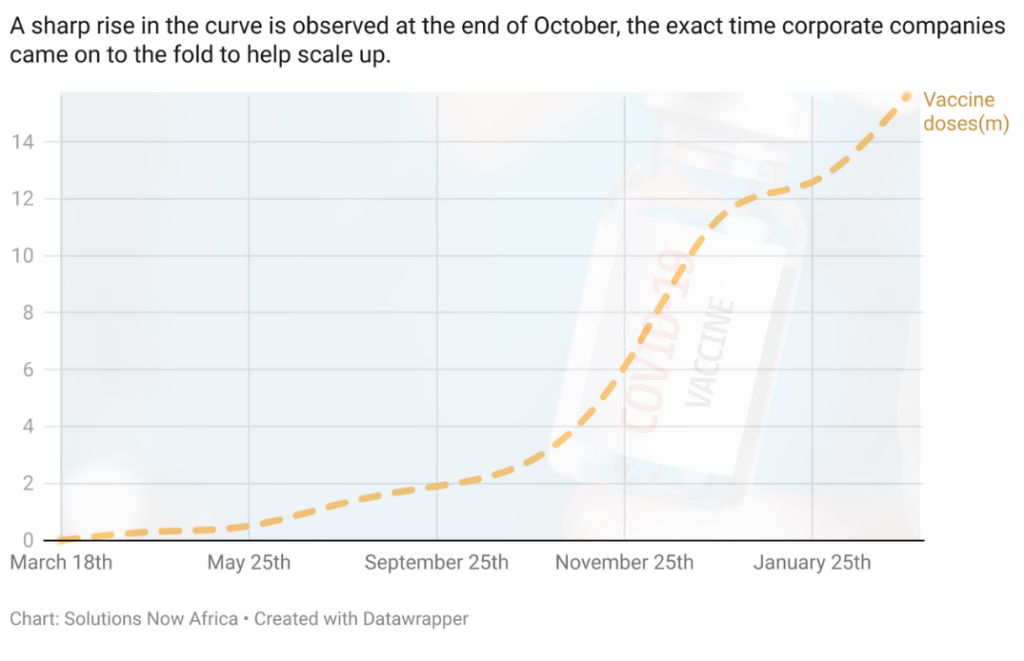 Kampala Capital City Authority, a body responsible for operation of Uganda's capital was the first to refine the vaccination drive. It partnered with several corporate entities, cultural institutions and social groupings to deliver vaccines to points of contemporary convergence. According to Ministry of Health Spokesperson Emmanuel Ainebyona, this  "helped us to push the numbers up."
At the inaugural stage, KCCA reached out to Buganda Kingdom, a popular cultural institution for the Ethnic Baganda community. In  one day, over 7,000 people were jabbed.
Contrary to the usual vaccination points that are set at hospitals and other medical facilities, the groups moved the vaccination points to more accessible areas.  It's therefore not by coincidence that the numbers Ainebyona talks about, indeed started to shoot up.
Bars and and hangout points were the biggest victims of the restrictions and quickly provided space as vaccination points, a thing which attracted revelers (or former revelers) to take up the jab.
"We organized public vaccination drives in partnership with many players to ensure that we scale up the accessibility and take up of vaccines. We also worked with many bars and entertainment places to avail vaccination points in these premises," Waweru explained.
Timothy Halango, the proprietor of Samitto lounge in Nalya, a Kampala suburb is one of the several bar owners who provided his premises for the vaccination activities.
"I was glad to provide space, Other recreational centers should consider providing space. We can only help ourselves by taking part in vaccination since each one's effort will be required, to open up the economy," Halango appealed.
Tolbert Onyango, the Manager at Kyadondo Rugby Grounds, another hangout point in Kampala notes that this was the only effective measure to link the drive to young population who are looking to do things that they can easily relate with.
-The impact-
In a space of six months, this initiative pushed Uganda's vaccination numbers from two million to over 15 million. Dr Atwine is quick to note that the Ministry of Health already had a plan in place, to organize mass vaccination but says they could have probably struggled, if it was only left to the government.
Admittedly, Uganda had failed to hit the 40% full vaccination target by 31st December 2021 set by the World Health Organization, but it had made strides in the last three months of 2021.
By mid-February, Uganda had rolled out up to 16 million vaccine doses. Local media reports however still indicated that more than ten millions doses were still lying idle in the medical stores.
Bike-hailing startup, Safeboda was deeply involved in the vaccination drive. Safeboda Public Relations and Communications Officer Edgar Karamagi shares below